Buying your first pair of pole dancing shoes 💕
How to choose your first pair of pole dancing shoes?
Exotic as a dance style, developed the way we see it nowadays mainly because of SHOES. Especially the shape and height of a platform. Does it mean that Exotic can be only with heels?
No.
For beginners, I recommend starting with socks. It's important to discover your body and create a habit of pointing your toes, especially if you have never danced before. Just concentrate on the movement without shoes. Once you feel a bit more comfortable around the pole, you can start looking for your first pair of shoes!
Whether it's your first or 10th pair of shoes, make sure you are buying professional shoes for pole dancing! There are many cheap analogies that look similar, but they are not the same. These shoes won't last long, but more importantly – you can hurt yourself! Don't compromise your health.
What to consider: 
PLATFORM HEIGHT
6" are more like "normal" dancing shoes, and once you start dancing in shoes with a higher platform, they will seem like slippers to you. Also, we are going to use the platform in dancing and in 6" your toes are not protected so well.
I would suggest trying platform 7". It may seem scary at first, but don't worry! Professional pole dancing shoes are very comfortable and stable.
Legs look longer with a higher platform, it's easier to create nicer shapes and use platforms in dancing.
Then you can progress to 8" which became very popular recently. They will make your legs look really long and allow you to create beautiful shapes.
There are shoes with a platform higher than 8″ but I wouldn't recommend them for dancing.
What's to keep in mind when choosing the platform height: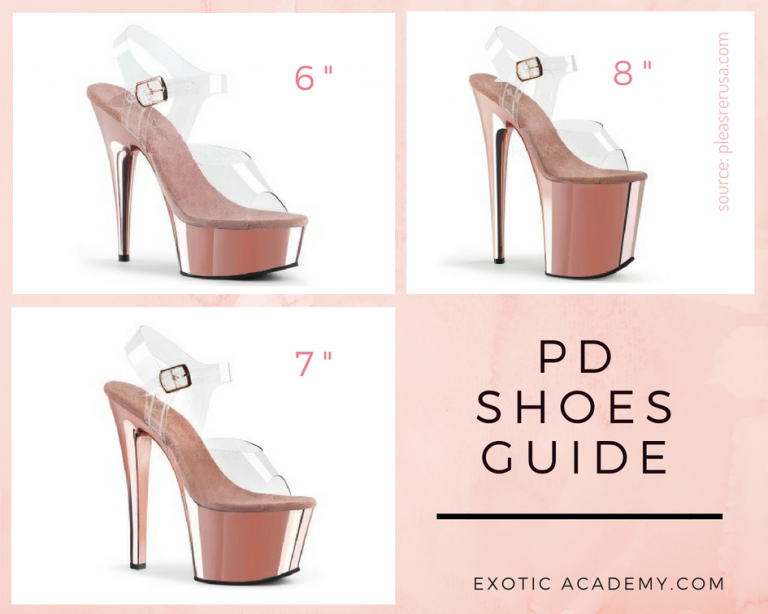 The higher platform increases the weight of the shoe. So it's just like you would be exercising with ankle weights. Any inverts, upside-down tricks – a few hundred grams can be a challenge!
It doesn't apply to tricks only – keeping your toes pointed is more difficult in higher and heavier shoes. Your feet will get tired quicker, and it will be more challenging to maintain beautiful lines.
Seems like there is not much difference between 7" and 8" but when you dance for an hour – believe me the difference is huge! Once you start training in 8" platform shoes, 7th will feel soooo light & comfortable.
7" still have a good height/weight balance and I like to dance in them, especially when I am training or teaching all day.
POLE DANCING SHOE DESIGN:
There are plenty of colors and materials to choose from!
First shoes should not be too fancy, so you are not afraid you are going to damage them (yourself and the floor as well) during the training – avoid rhinestones, crystals, feathers, etc.
The range of "simple" shoes is still impressive.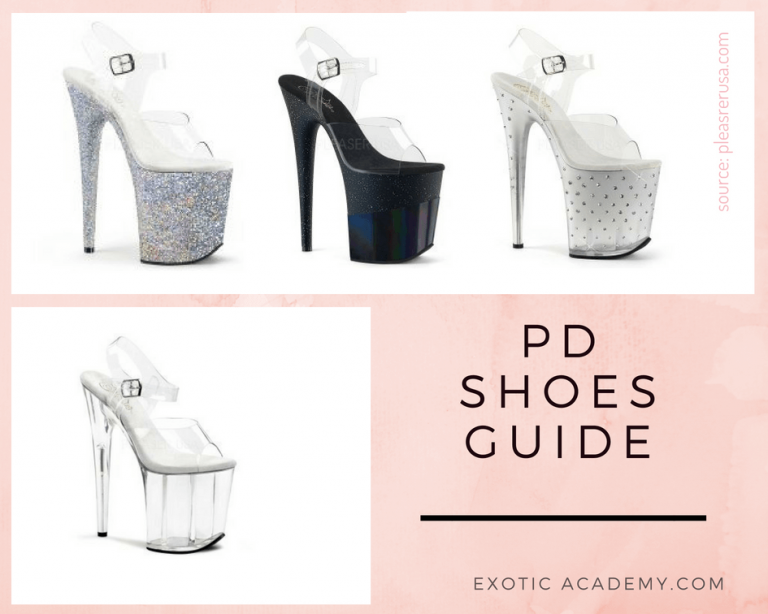 Platform Durability:
Clear – This is probably the most durable platform – scratches won't be visible, and shoes also seem a bit lighter. They will survive a lot!
Chrome – Nice shiny, metallic finish in many colors. Unfortunately, these platforms are very easy to scratch and polish comes off very quickly.
Black/other matt – Paint comes off, especially under the toes and near the rubber of the shoes. Black ones can be easily renovated and painted, but it's not so easy with other colors.
Rhinestones/Crystals/Studs/Glitter – expect rhinestones and glitter to be falling off. While glitter will only make a bit of a mess, crystals and studs can hurt you and scratch the floor. I save them for special occasions or photoshoots.
Upper shoe design: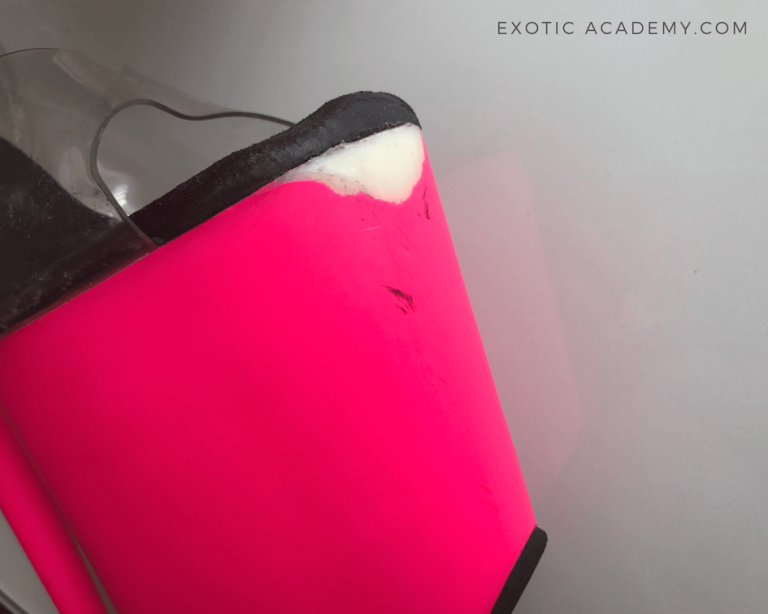 Shoes should be tight and stable. Remember, they will get looser with time, so don't worry if they seem very tight in the beginning.
For dancing, I would definitely recommend shoes WITH ankle straps.
Clear – a bit tighter than patent leather, ankle straps are definitely more secure and wider than in patent leather shoes.
Patent leather – much wider than clear (at least Pleasers), most likely your toes will be slipping out.  People with narrow feet will find them too big. The very thin ankle strap doesn't seem very secure. I do have a few pairs of those, but I need to wear them with socks.
Some girls are buying shoe sizes smaller to make sure their toes are not slipping out. It never worked for me, though!
But for those who are really interested in getting their PERFECT pair of pole dancing shoes, we recommend:
Custom-made – You can get PD shoes fitted to your feet, design, and material of your choice.  They are more expensive but if you are a pole dancing shoe freak – trust me, it's better to have one pair that fits you perfectly than 3 pairs of standard shoes with your toes slipping out.
Boots –  very popular recently, they increase stability and protect your toes during some crazy drops and floor work. They are heavier than sandals and don't expect black boots to stay black for too long. A great solution for anyone with narrow feet and for those who like intensive floor-work with jumps, heel bangs and drops.
POLE DANCING SHOE BRAND:
Pleaser – is probably the most popular and available brand on the market with so many colors and designs to choose from!
Ellie shoes – recommended for girls with narrow feet, the upper shoe tends to run smaller. Not as popular as Pleaser.
Custom-made – no matter if your feet are very wide or very narrow, they will fit just perfectly.  Probably the most expensive option, also the most recommended if you are serious about dancing. 
I've also heard about brands like Tony Shoes, Erosella footwear, My 1st Wish, Honey Nut Raisin but never had an opportunity to try them. I would be very careful trying out new stuff, though – safety first!
What are your favourite shoes? Let us know! 🙂
---