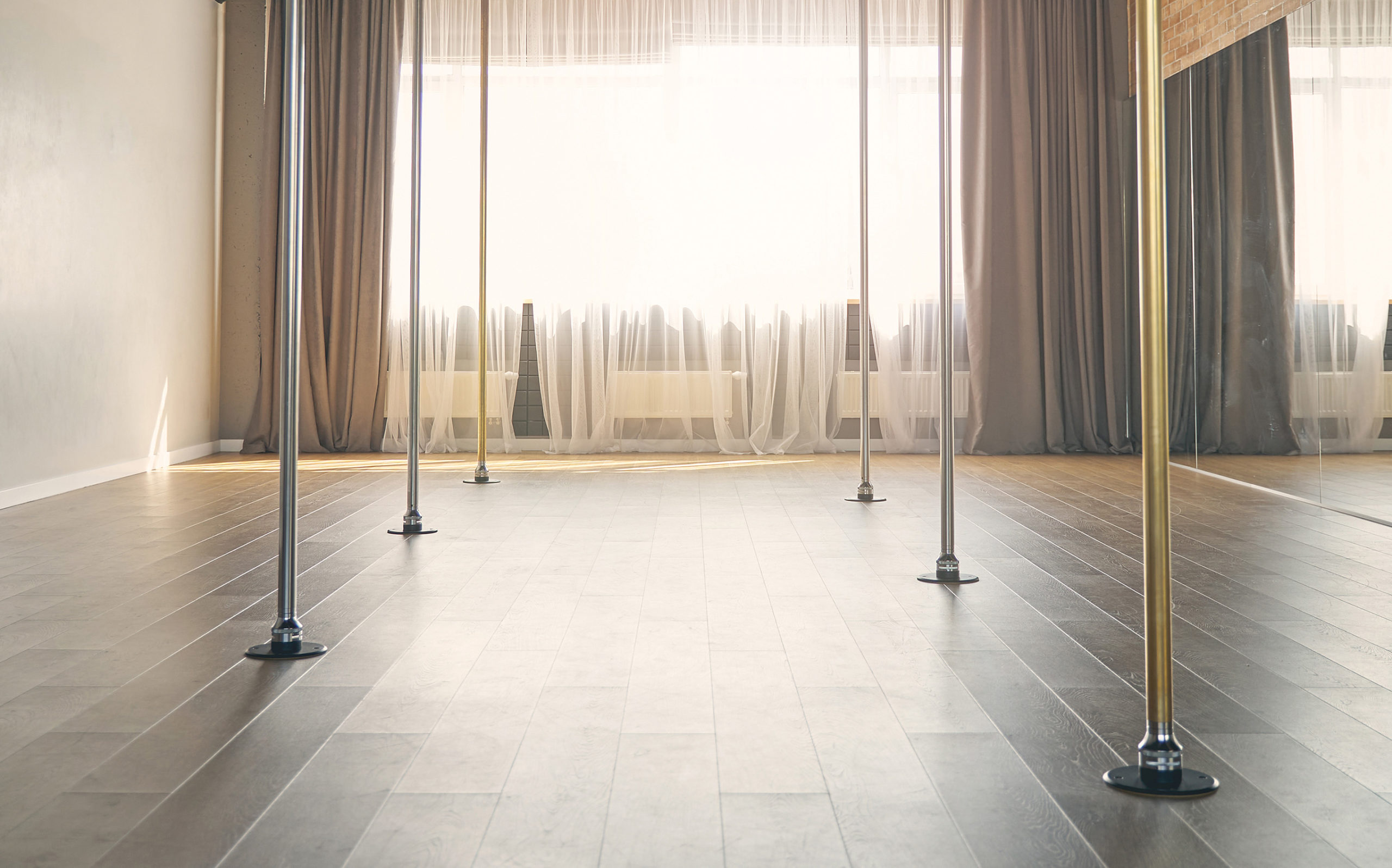 How To Choose The Best Pole For You
Having your own pole at home is GREAT. You can train as frequently as you want, the way you want. There is no travelling involved, and you don't have to pay to hire a pole if you want to practice your own routines. But, of course, you'll need the best pole for your workouts.
Let's face it – regular pole dancing classes are not cheap, especially if you become a pole addict. Also, if you want to see the progress and have a regular workout, one or two hours in the studio per week may not be enough.
Here is everything you need to know before you buy a dance pole:
Let's take a look at some Brands available on the market:
I have tested several brands, including X-Pole, Lupit Pole, Sun Pole, Pole4You. Some other brands that are safe to use are Lil' Mynx and Platinum Stages. Hence, the majority of my training was on X-Poles, and I would highly recommend this brand, this article will refer mainly to X-Pole features. It's just my personal preference; any of the brands above should be fine.
NOTE: There are plenty of cheap poles on Amazon and eBay which are not safe to use.
You should NEVER buy a cheap pole. Cheap poles can be extremely dangerous. If something is too good to be true, it probably is.
If you are looking for a cheaper option, you can always buy a professional second-hand pole. Just make sure it's not fake.
Your pole is going to be the biggest investment you make when you start pole fitness from home, so it's important to get it right.
But don't worry! Even if you decide that pole dancing is not for you, you can easily sell a branded pole. There is always going to be someone who wants to buy a second-hand X-Pole, Lupit Pole or Stage. Unlike cheap, dodgy ones which no one would like to buy, and you will be stuck with them!
Types of dancing poles:
There are generally three options:
Friction fit poles that do not require bolting to either the ceiling or floor.
Poles mounted to the ceiling and sometimes the floor permanently & semi-permanently
Freestanding / Stage poles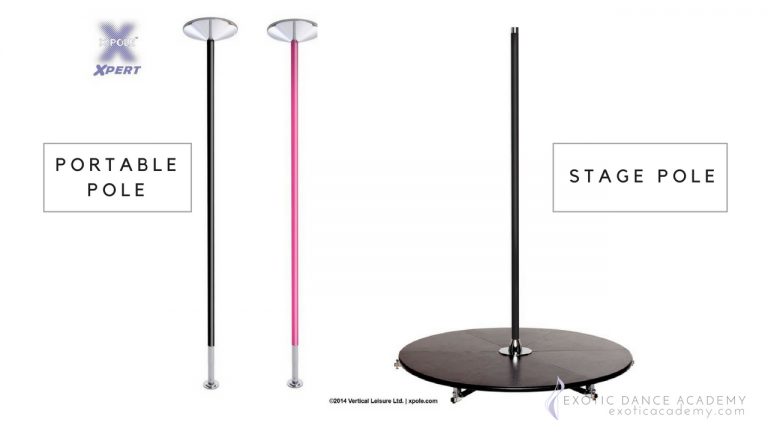 No 1 for home use is definitely portable poles held in place by the pressure that does not require permanent fixing. The pressure is distributed to the ceiling and on the floor to create a stable pole. Don't worry –they are very safe – you just need to make sure the pole is installed correctly. They can be easily and quickly removed, require no ladders, drills, or screws, and cause no to minimal damage.
Permanently installed poles are most common in pole dancing studios. These are great in terms of safety as they are attached to the ceiling, or both the floor and the ceiling as the name suggests, permanently. If you have your own place, or maybe you have a cool landlord who doesn't mind, you can also install a pole like this at home.
Freestanding / Stage poles are great for general pole fitness and outdoor training, but they are not an ideal solution for Exotic Pole Dancing. You will be very limited with your Floorwork, and base pole moves. The stage itself is quite hard and makes a lot of noise when you wear heels. They are also heavy to transport and quite expensive. But any pole is better than no pole!
Pole diameter (thickness):
There are four main options:
50 mm
45 mm
42/42.5 mm
40 mm
In general – the smaller the diameter, the easier it is to grip with your hands, but the more difficult it is to grip with your legs.
Old-school 50 mm Pole
Everything started with 50 mm poles. Maybe 5-10 years ago it was the industry standard and until recent years there were no other options available.
The most hardcore for handgrip, so it's easy to switch to other poles when learning on 50 mm.
Easy leg grip and less painful for your skin, but it will be more challenging on other poles.
Not so popular anymore, the 45 mm poles have taken over studios around the world.
The industry standard: 45 mm Pole
The 45 mm pole is the most common in pole dancing studios around the world
Fairly good both hand and leg grip, unless you have very small hands.
Standard competition poles.
The new 40/42 mm
40 mm poles are relatively new and were introduced by X-Pole. I was shocked by how easy it was to grip on those poles, but a layback was a bit more challenging!
Very good hand grip (this could be a con as it can be very difficult to switch to a wider pole after learning on a 40 mm)
A bit more challenging leg grip and more pinching sensation with moves when you grip with your body, not with your hands.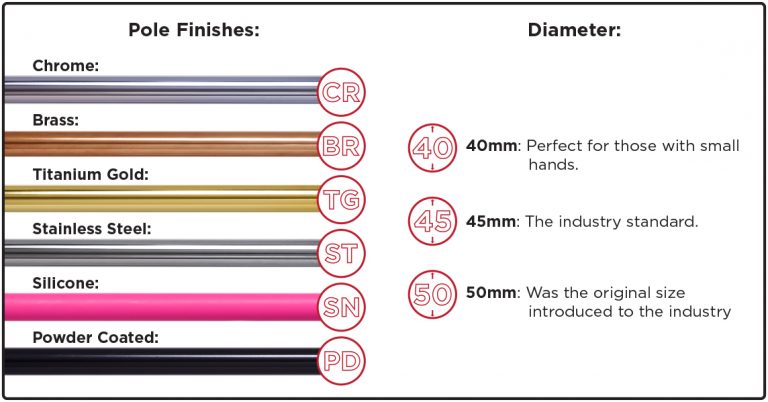 Different Pole Finishes
There are a variety of different pole finishes available for your portable dance pole.
These are options that x-pole has on their offer:
Chrome
Brass
Titanium Gold
Stainless steel
Silicone
Powder-coated
Other brands are offering usually chrome, stainless steel, and brass poles.
Chrome Coated Poles – regular grip
These are the most common dance poles you'll come across, they're used in studios worldwide
They are good for all weathers and climates, and easy to clean and maintain. Fairly durable and most affordable. They have a "standard" level of grip.
Stainless Steel Coated Poles – regular grip
Great for those who suffer from metal allergies and very durable. There is no risk of the pole being liable to rust. They are slightly more expensive than chrome poles and definitely less grippy.
Titanium Gold Coated Poles – enhanced grip
Titanium Gold is chrome poles electronically coated for an enhanced grip.
They are gold, but their color will change with time. It does NOT affect the finish of the pole, and it does NOT mean that the titanium layer has been stripped off. They are a bit more expensive.
Brass Coated Poles – high grip
Brass poles are more common in hot countries and have much more grip than either stainless steel or chrome. They need to be cleaned frequently to prevent tarnishing. They are more expensive and more susceptible to damage than chrome or steel.
Silicone Coated Poles – max grip
Similar to Chinese Pole. Unlike Chrome and Stainless Steel, you can dance with your clothes on and the grip does not rely on skin-on-metal contact.
Powder Coated Poles – max grip
Very high grip. They are available in different colors. X-pole comes only in the black or pink finish but for example, Sunpole is offering a lot of different colors – pink, blue, red, yellow, green. Uncommon to find in studios.
Climate & Pole finish
It matters when it comes to choosing the right pole for you. For instance, if the climate is very humid and wet then the chrome is more likely to rust, however, the brass would be slippery, so the stainless steel coating would be the best. If you live in a hot & dry country then brass is best for you as it becomes stickier when warm. If in a temperate climate environment, chrome is great.
Static & Spin
Dance poles can be static only, or be both static and spin. (If you have ever wondered why some pole dancers keep on spinning forever – now you know! It's the pole).
The static only poles have no option to spin, whereas the static and spin poles can be changed to a static or spinning mode in just a few seconds.
Usually, you will start with a static pole. When you feel safe with some basic moves, you can try them on a spinning pole. Spinning poles require a different technique than static poles. Besides performing your move you have to control the momentum of the spin, some moves are more difficult while spinning (for example invert) while some may be easier.
I recommend to start practicing some basic moves on the spinning pole as soon as you can and then try to practice moves on both static and spinning poles 50/50, just like with your good and bad sides.
A spinning pole allows you to create more flow; simple shapes can look very beautiful while spinning.
If you can, I would advise getting a pole that allows you to switch from static to spinning mode; there is not that much difference in price, but it's definitely worth it.
Ceiling Height & Pole location
Before you are going to purchase the pole you like, you have to know the exact height of your ceiling and find a joist which the pole will be sitting under.
You can measure the height of your ceiling with a measuring tape. Higher ceilings are usually better for pole dancing unless they are above a certain height when installations become a bit more problematic. X-pole, for instance, advise using a permanent ceiling mount for heights over 11ft.
Double-check on the website and look at the measuring charts. For X-pole and Lupit Pole you can get additional extensions, while some brands are custom-made and come in one piece.
To find joints you can use a stud detector or simply by tapping on the ceiling. A 'hollow' sound means there's no joist above that area of the ceiling, and it's not safe to install the pole. If it sounds 'solid' then keep knocking along in a straight line in each direction in order to determine the direction of the joists. Once you have found a suitable location, you can use a pencil to put a dot on the ceiling and install your pole!
Pole Installation
First installation is always going to take more time, but once you know what you are doing you will be able to install your x-pole and take it down in 5 min. Promise.
There should always be a step-by-step installation guide that comes with your pole.
---